The Mom Test by Rob Fitzpatrick is a method that allows you to ask goods questions to the right people to ensure the viability of your new idea.
Three main rules to ask good questions:
Talk less and listen more. «The more you're talking, the worse you're doing»
Ask about specifics in the past instead of generics or opinions about the future.
Talk about the users life instead of your idea.
The Mom Test in five steps (pdf) :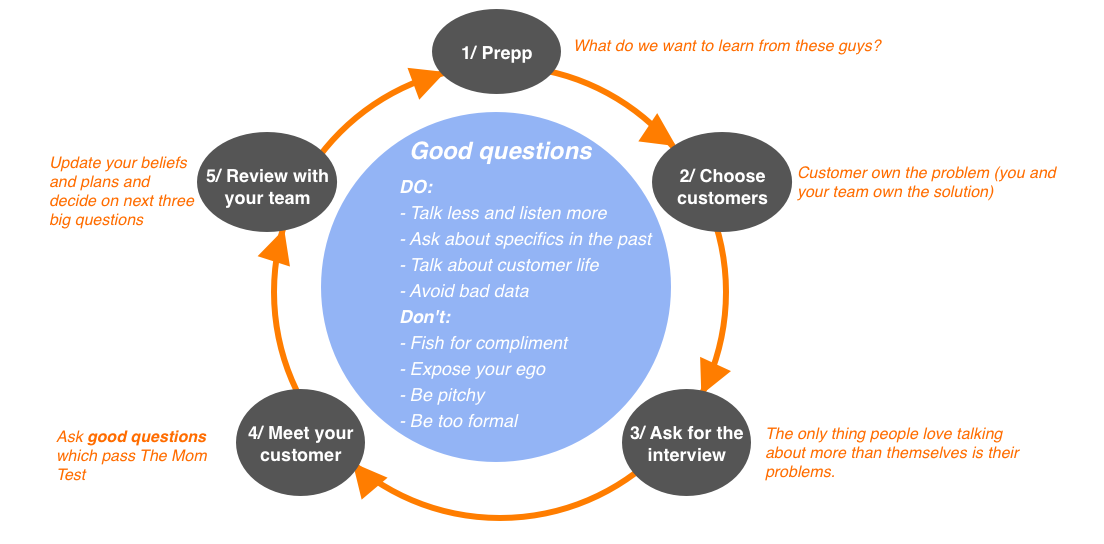 1/ Prepp what you want to learn from your customers
With your all team, business and product :
Decide your big three learning goals with 3 big questions
Decide next steps and commitments
If conversations are the right tool, figure out who to talk to and segment your customers
Create a series of best guesses about what the person cares about
Remember : If you don't know what you're trying to learn, you shouldn't bother having the conversation.
2/ Choose your customers
Good customer segments are a who-where pair. If you don't know where to go to find your customers, keep slicing your segment into smaller pieces until you do.
If you aren't finding consistent problems and goals, you don't yet have a specific enough customer segment.
3/ Ask for the interview
Create warm intros
Frame the interview with five key elements : Vision, Framing, Weakness, Pedestal, Ask
The only thing people love talking about more than themselves is their problems.
4/ Meet your customer
During the interview:
Keep it casual
Ask good questions* which pass The Mom Test
Deflect compliments, anchor fluff, and dig beneath signals
Take good notes
Press for commitment (time, risk or financial commitment) and next step
An interview has succeeded when it ends with a commitment to advance to the next step
5/ Review with your team
Review your notes and key customer quotes
Update your beliefs and plans
Decide on the next 3 big questions
Find the root cause of new ideas (Dig beneath ideas)
Write down new ideas, but don't rush to add them to your todo list.
Good questions to pass The Mom Test :
Follow the three main rules:
Talk less and listen more
Ask about specifics in the past instead of generics or opinions about the future
Talk about their life instead of your idea
+ Avoid bad data:
Deflect compliments
Anchor fluff
Dig beneath opinions, ideas, requests, and emotions
+ Don't:
Fishing for compliment
Exposing your ego
Being pitchy
Being too formal
Being a learning bottleneck
Collecting compliments instead of facts and commitments
+ Ask important questions:
Love bad news: You're searching for the truth, not trying to be right. Learning that your beliefs are wrong is frustrating, but it's progress. It's bringing you ever closer to the truth of a real problem and a good market.
Look before you zoom: Start broad and don't zoom in until you've found a strong signal, both with your whole business and with every conversation.
Prepare your list of three. Always pre-plan the 3 most important things you want to learn from any given type of person.
Beyond the method, here are some advices and remarks that can very easily be applied to any good Agile project:
Deciding what to build is your job
Anything involving the future is an over-optimistic lie
People will lie to you if they think it's what you want to hear.
Customer own the problem, you and your team own the solution.
Some problems have big, costly implications. Others exist but don't actually matter. It behooves you to find out which is which.
Watching someone do a task will show you where the problems and inefficiencies really are, not where the customer thinks they are.
Usually, by the end of the interview, people understand what you're trying to do. Asking « Is there anything else I should have asked? » gives them a chance to politely "fix" your line of questioning.
Every time you talk to someone, you should be asking a question which has the potential to completely destroy your currently imagined business.
If you've got heavy product risk (as opposed to pure market risk), then you're not going to be able to prove as much of your business through conversations alone.
Ressources